Bonus Calculations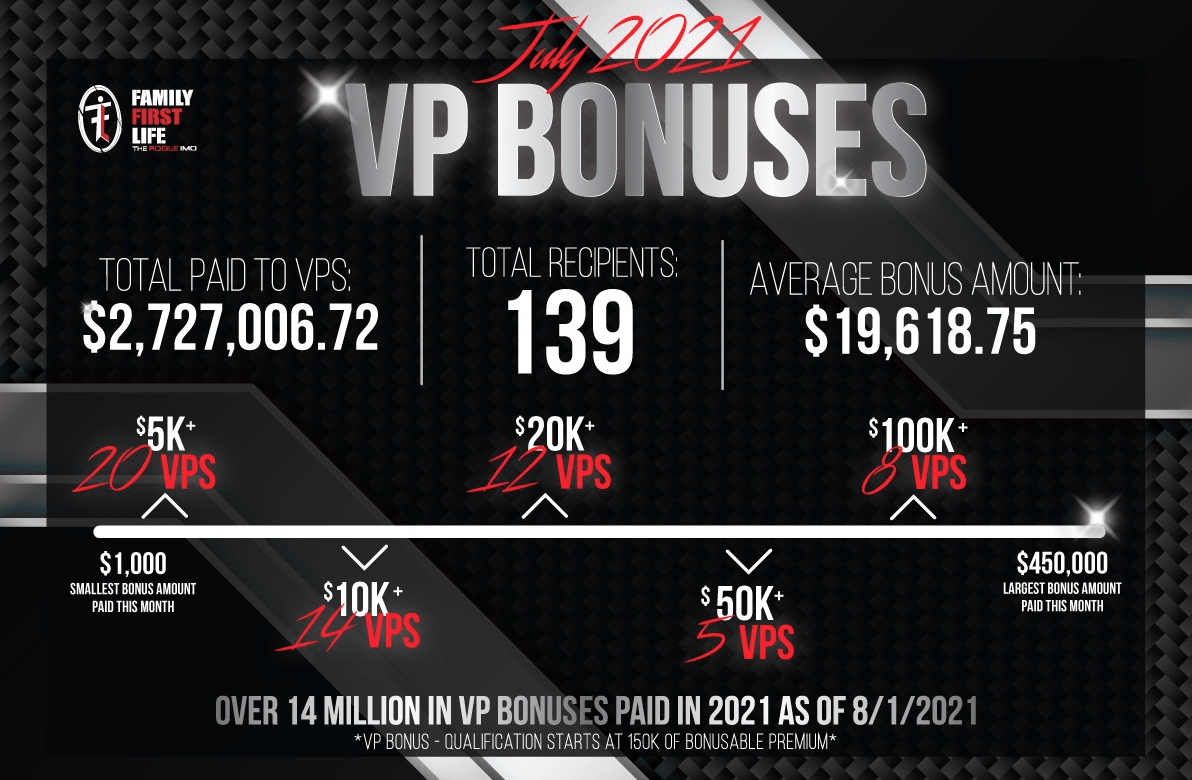 The image above shows FFL has paid out over $14M in VP bonuses in just the first half of 2021 – over $2.7M in July alone with an average bonus of over $19K.
There are a lot of questions about the VP Bonus: How does it work? How do I qualify? When does it pay? We'll go through how it works in this post.
The first thing to understand is the bonus is NOT paid on your entire issue/paid volume. It is paid on your BONUSABLE premium. Here's the link so you can break that down for yourself.
So let's use my numbers from October 2021 here as an example: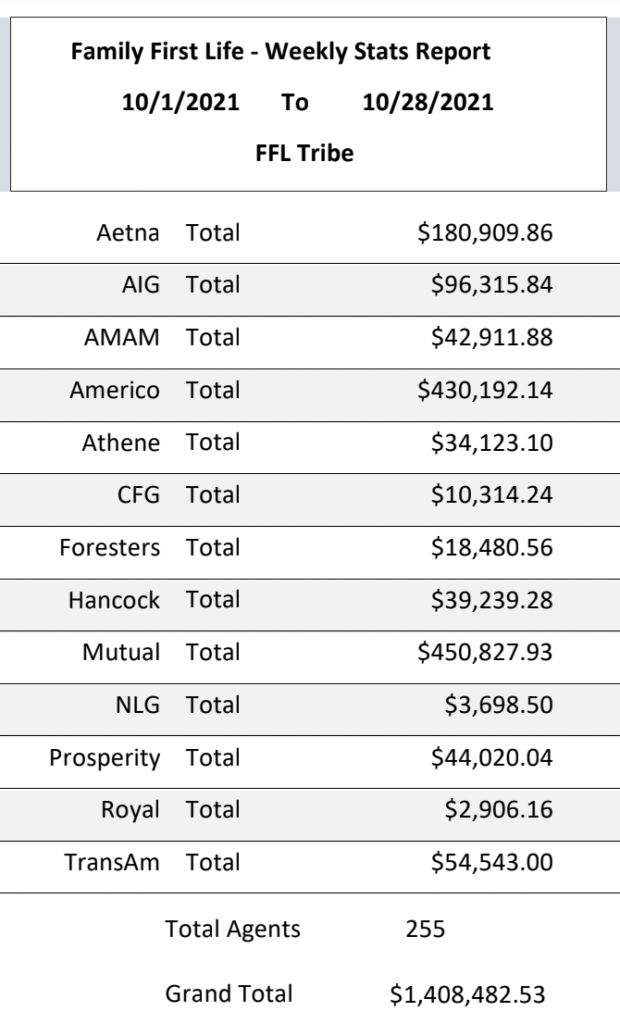 They count:
100% of Americo = $430,192
+ 100% of Aetna = $180,910
+ 100% of MOO = $450,828
+ 100% of Hancock = $39,239
+ 100% of AMAM = $42,912
+ 100% of AIG = $96,316
+ 50% of NLG = $1,849
+ 2.5% of Athene = $8,531
= $1,250,777 in Bonusable Premium
The bonus is always paid on 4-week volume, so,
Question #1: How many weeks were in the month? If it's a 4-week month, you count 100% of your Bonusable Premium. If it's a 5-week month, you count your weekly average over 4 weeks (or 80%). October was a 4-week month so my Bonusable Premium remains $1,250,777.
Question #2: What is your first (biggest) leg percentage? My biggest leg did $675,878 out of $1.4M. Because that's 48% of my volume (not more than 50%), I still get to count 100% of that volume – so my Bonusable Premium remains $1,250,777.
That leg happens to also be at the 145 comp level so they give me an extra 1% bonus on that bonusable volume = $6,004.
My Bonusable Premium of $1,250,777 qualifies for a 4% bonus = $50,031 + the 1% from the 145 leg = a $56,035 bonus for October.
The Bonus could be reduced based on my persistency, so you want to be careful of your business quality.
Bonus payouts typically arrive in your account at the end of the following month.