No medical exams or blood tests, just a few health questions online. Get same-day coverage on affordable policies from our trusted carriers in minutes.
Get anywhere from $20,000 to $2 million in life insurance protection. Choose from 10-30 year terms or permanent coverage.
Our 100% online and hassle-free process makes it easy to apply.
Take your policy for a trial run with a 30-day money-back guarantee. If you're not fully satisfied in the first 30 days, you'll get a full refund.
HOW IT WORKS

GET AN INSTANT QUOTE
See your options with multiple personalized coverage plans to choose from before you apply.

APPLY IN < 10 MINUTES
Get covered in about 10 minutes with no medical exam — just a few health questions.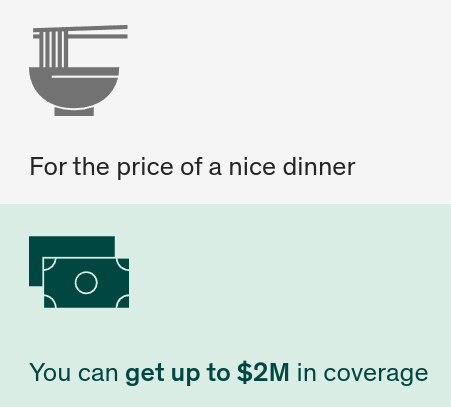 SIMPLE & AFFORDABLE
Life insurance isn't one-size-fits-all. Tailor your policy to fit your budget and your family's needs.
Coverage can be used to help pay off a home loan, debts, child care, tuition, or anything else your loved ones need.
95% of applicants qualify, and rates start as low as $10 a month*
*Assumption: Healthy 24-year-old female, 10-year term life policy, $100,000 face amount