Career vs. Independent Agent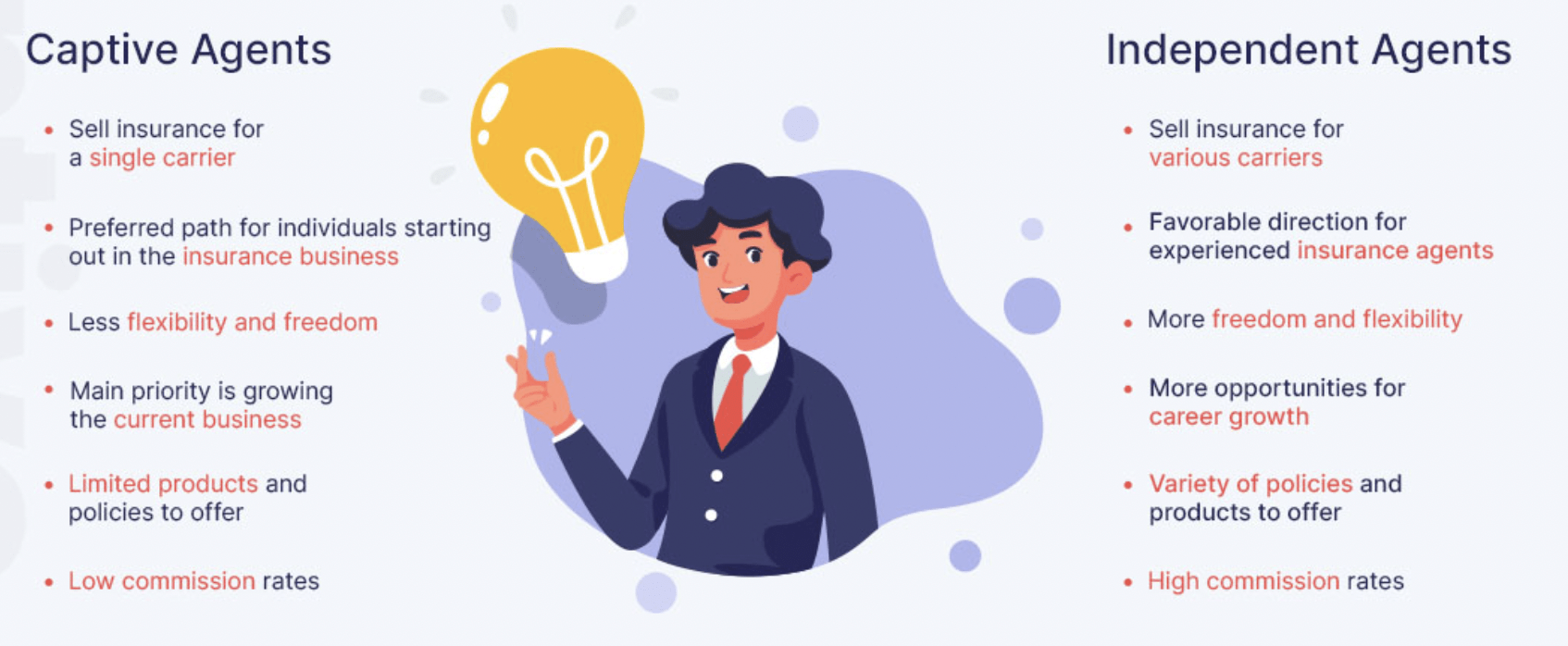 A career agent is often also labeled as a 'captive' agent for a specific company: New York Life, Northwestern Mutual, MassMutual, Guardian, OneAmerica, PennMutual, Ohio National, Prudential, Mutual of Omaha… and many others.
The upside is if/when your planning philosophies are in alignment with your agency and company's philosophies. Contrary to public perception, you aren't restricted to just one company, although some have a "first right of refusal" – meaning you write them first, and then if they are declined or have a rating below standard, then you can "shop" them.
The downside is often rather restrictive compliance requirements. You are a direct representative of your agency and of your company, so they may have a lot of rules for you to follow. Those rules get more strict if you get broker/dealer securities licenses, such as the Series 6, 7, & 63. In addition, you will have a minimum annual production requirement to meet for the primary company you represent. Granted, if this is truly a career, that shouldn't be a problem for you.
Another note to consider asking about is whether you're allowed to offer Fixed Indexed contracts. Some companies won't… under any circumstances. Some require you to be a registered representative with their broker/dealer and only sell those allowed under B/D supervision. Others don't care either way. If you want to sell IUL and/or FIAs, you'll want to ask about this in advance.
Alternatively, you may want to explore going "independent" so you can work the way you choose. If you go this route, you're going to want to affiliate with an IMO (Independent Marketing Organization) so you don't have to go to each carrier and negotiate multiple separate contracts. You'll broadly have two alternatives:
Team-building companies: There are some common names and not-so-common names: Primerica, WFG (World Financial Group), Virtual Financial, Symmetry, AdvantageOne, and PHP (People Helping People)
Independent IMOs: These IMOs support personal producing general agents who focus primarily on production. They might have a team, but that isn't their focus. They are focusing on building themselves as the best agent/advisor they can and bringing their best services to their clients.
What are the differences between team-building and independent IMOs?
Initial compensation. Many shops will start you at 30% or 40%, but my advice is if you're starting at less than 55%… ask why. Any career agent shop can get 55% + bonuses.
Training: Independent IMOs don't necessarily provide sales training. They'll provide product training and perhaps some vendor product demonstrations, but these are primarily for experienced producers who know how to prospect, do a fact-find, prepare recommendations, ask for referrals, and so on.
Family First Life straddles both the team-building and independent IMO structures and has several advantages:
Higher commission – starting at 90% with absolutely no experience or background needed
No one is forced to build a team, and everyone CAN if they choose
No restrictions geographically on where you can build
Unlimited lead sources
The best training in the industry (evidenced by our many seven-figure earners) and 100% free to agents
Open platform – get as many or as few contracts as you want and write anywhere else you want
Bottom line: your job is to determine where YOU best fit and to make the most of it. Be wary of comparing companies. Companies don't necessarily matter (for the selling organizations). There are top producers everywhere. At the end of the day you're responsible for your results wherever you choose to work.
What does matter: Your agency and your training. That's #1. If you have that, almost nothing else matters. If you don't have that… nothing else matters. You can have a 150% contract… but if you can't sell the products to get paid on it, it's worthless.