Using Social Proximity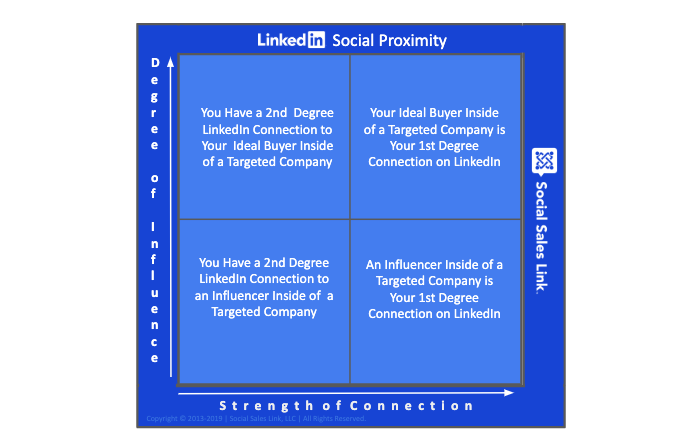 I had a chance to hear Brynn Tillman speak today and wanted to share her strategies for understanding and then leveraging your social proximity on LinkedIn.
---
The old saying goes, "It's about who you know…" well, it's the new saying too. 
Social proximity is about understanding who is in your existing network and/or is a sphere of influence and leveraging those relationships to gain access to targeted buyers.
While there are endless ways to map out who you know and how they know who you want to know, we are going to focus on the four that relates to the image above:
1. The best scenario is that you are connected to the decision-maker inside of a targeted company. You've already made it past the gatekeeper. Obviously, the stronger the personal connection, the better, but already being part of the professional network brings leverage and increases the chances of them willing to take your call. Now, it still all comes down to grabbing their attention around a topic that is meaningful to them and providing enough insights that they are excited to learn more.
2. Next, you have a connection inside of your targeted account that may have some influence or ability to make a warm introduction for you to your buyer. In this situation, you may want to reach out, asking for guidance. Maybe they'd be willing to jump on a call with you to provide insights before you reach out to your decision-maker. And, maybe after a conversation with them, you can ask if they'd be willing to facilitate an introduction. Be careful that you don't burn a relationship, respect your network, and it will pay off.
3. Third, you have a connection that knows your ideal buyer. Warm introductions or even permission to name drop is a powerful way to gain access to decision-makers. Set up a quick call with your connection to let them know who they know that you'd like to meet, why you think you can help them and assure your connection that you will keep their reputation intact. They are taking a risk by introducing you into their network; your goal should be that the professional they introduce you to thanks them… after your call.
4. Lastly, you have a connection that knows an influencer inside of your targeted account. While this may seem far removed from your buyer, with enough patience, you can build trust among each party as you move closer and closer to your buyer. Your connection makes the introduction to the influencer, the influencer after you've built rapport can get you to the buyer.
How to Search in LinkedIn (on the free account)
Click on the search bar on the top right of your home page
Type in the company name you are targeting and choose it from the drop-down
Click on the number of employees
Click on the Connections drop-down, click on 1st and 2nd and Apply
Click on All Filters
Add a location and other filters that will help narrow down your search to meet your criteria closer
Scroll down to Title and add your SEARCH STRING and Apply
From this list determine who you'd like to approach
Reach out to your connection via LinkedIn, email, text message, phone call, DM and have a conversation
Social proximity is a powerful thing, and LinkedIn is, by far, the most effective tool to help you identify who in your network can help you in your business development efforts.
Want to learn more about how your LinkedIn social proximity to targeted buyers can help you start more sales conversations? Brynn says: LET'S CHAT.